Today, I am going to show you sparkling wines that my friend owns.
It may not easy to picture the Japanese having sparkling wine but there are actually  quite a number of sparkling wine lovers in Japan.
The other day, this friend of mine told me "I got awesome sparkling wines!"
Since I prefer beer, I'm not interested in sparkling wine, but this time I got pretty excited!
Because they are "Neon Genesis Evangelion" inspired sparkling wines!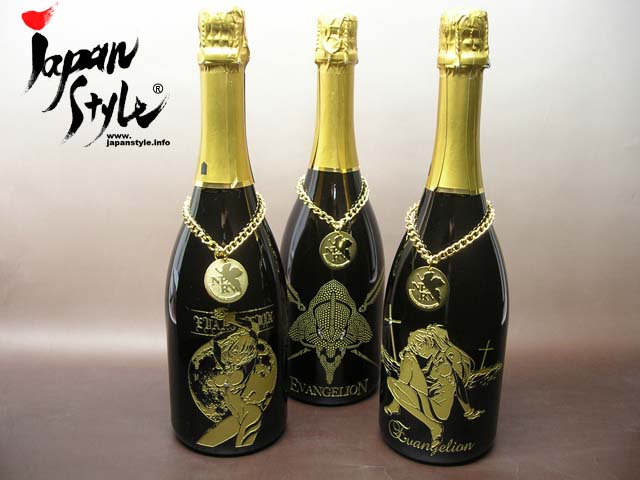 Each bottle is engraved Rei Ayanami, Asuka Langley, or Unit 01 and painted with gold color.
The eyes of Unit 01, Rei Ayanami's chest, and Asuka Langley's cross are decorated with crystals (swarovski? I don't know), which really stand out.
The sparkling wines were just started to be sold in June 2011. There are limited to 999 bottles in the world. It means only 333 bottles of each wine were produced.
Each bottle is numbered, and all her bottles got "26."
Wow. They are gorgeous! 😯 Evangelion buffs are eager for them. I rarely have sparkling wine but as a big Evangelion fan, I want it! LOL
It is easy to guess that price goes up because it's limited production.
Well, I have an announcement…
The owner of the sparkling wines said that she can sell them to an overseas Evangelion fan!
If you are interested in buying the sparkling wine, contact me through the link at the end of this post.
It is a three-bottle set, and they won't be sold loose. Please understand it beforehand.
As a special gift, she will add a pair of champagne glasses that she engraves illustration, name or message that you like.
She is a professional engraver and expert at engraving bottles and glasses. (I have introduced her in JapanStyle)
Evangelion sparkling wines seem to be difficult to get, so if you are Eva fan, don't miss the chance!
Please contact me HERE >>> http://www.japanstyle.info/contact
Product Information:
Sparkling Wine  Brut/ Sec/Demi-Sec
Size 750ml
Alcohol 12.5%
Product of France
This is JAPAN Style!