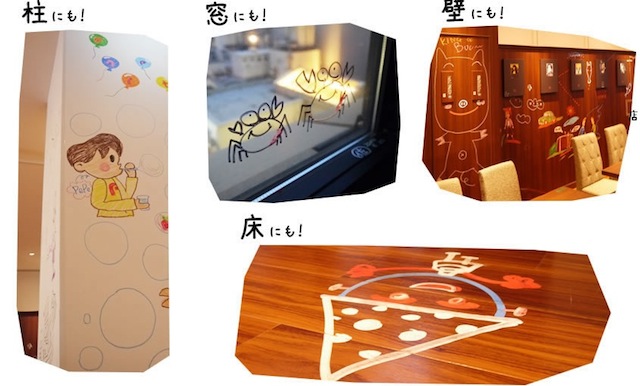 On June 2nd, one of Japan's best known stationary companies, Pentel, opened a unique cafe in Tokyo called "GINZA RAKUGAKI Cafe & Bar by Pentel". "Rakugaki" means scribbling or doodling in Japanese. And as you might have guessed, customers can draw anything they wish, anywhere in this cafe. Using Pentel's stationary, patrons can scribble on the floor, the tables, pillars, walls, doors and even on the windows. This sounds fantastic, especially for those who have been reproved by their parents for scribbling on the walls or furniture during childhood 😉 On the cafe's Instagram page, you can see a lot of "rakugaki" created by the customers –> http://instagram.com/rakugakicafeandbar
GINZA RAKUGAKI Cafe & Bar offers delicious, artfully presented fare as well.  Have a look at these beautiful and artistic offerings in the pictures below! I love the idea of the french fry plate with seven colorful sauces. It looks similar to a painter's palette 🙂 Oh, wait. This just popped into my head now as I write this, but I wonder; is drawing on the tableware also OK?? Hmmm.
Unfortunately, GINZA RAKUGAKI Cafe & Bar will be open only for a limited time, until July 27th. If you have a chance to be in Tokyo soon, why not visit there 🙂
GINZA RAKUGAKI Cafe & Bar by Pentel
Business hours: Cafe 12:00~17:00 / Bar 18:00~23:30
Address: NOCO building 5-6-5 Ginza, Chuo-ku, Tokyo
Source: Matome Naver
Author: Junko
This is JAPAN Style!