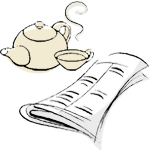 — ABOUT  Wasabi Stories… —
"Have a way that you face yourself"
Today's story teller is an actress Yoshiko Sakuma.
She told about Japanese calligraphy, which has been her hobby for 35 years.
Since she was a child, she liked writing characters on a news paper till it got thoroughly black rather than playing outside.
As soon as she got home from school, she wrote letters to her friends to whom she just said goodbye.
Her mother often told her to "white neat handwriting that doesn't displease the receiver of your letter."
So Sakuma still is careful about her handwriting when she writes.
Right after she gave birth to twins, she got a chance to send her calligraphy to an exhibition, and she wrote nothing but "dream" thinking of her children.
When she realized, she had written on 800 papers. She chose one from them and sent to the exhibition.
"The elements of music, painting and acting are condensed in your calligraphy."
This is the evaluation she received from a judge.
She said she was glad that it's not about technique and such but her calligraphy bore traces of her actress spirit.
Now that her children are grown up, she puts importance on the time when she quietly focuses on calligraphy alone.
Sakuma's word
"At the exhibition held at Tokyo Metropolitan Art Museum, my calligraphy 'Heart' was exhibited. In this threatening world with brutal crimes, it is the very time that we realize the importance of human heart. Each individual must live with beautiful heart. I put the wish in my calligraphy."
The NIKKEI Sep/11/2009  by Yoshiko Sakuma (actress)

You should follow me on Twitter.