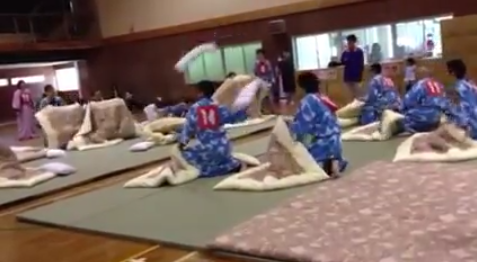 Makura-nage or pillow throwing may not be very good mannered thing, but it is what Japanese kids enjoy in the evening with their school friends behind their teachers' back when they go to over-night school trip.  You will be told off if you caught by teachers when you are doing this, but it is like indoor ball game and is a good fun 😛   It seems students of a high school in Shizuoka made a nationwide pillow-throwing game competition.
According to an article, the 2nd national game was held in the end of last month and approx.. 250 people joined the games.  In order to be fair and involve a wide variety of people, the event splits teams into 3 categories; adult, child and university students.
Difficult to imagine how it works?
I found a movie for you!!
One big different from regular pillow-throwing is that you can use futon as a shield to protect yourself from being hit by pillow.  Also, there is no win or lose in normal pillow-throwing, so I wonder how rules work??  But I like this kind of not stressful game; no special training is needed, and everybody can join regardless of.  And of course, no pain being hit by pillow!!  I hope more and more people will enjoy this game without caring about teachers!!
What do you think today's article?
I will be looking forward to hearing from you:)
Source: My navi news
This is JAPAN Style!