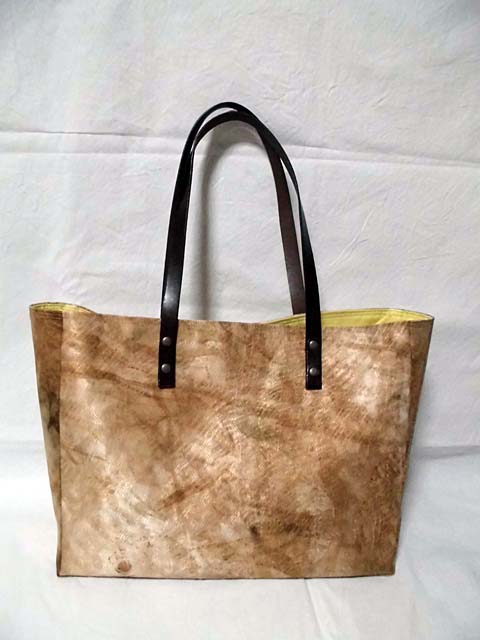 This tote bag has long handles so that you can carry on your shoulder.  This bag uses dyeing technique by persimmon tannin, which is believed to be waterproof and avoid insects.  Multiple dyeing using different dyeing/ mordant patterns creates unique and interesting colouring and patterns, which matches to luxury looking shiny silk.
Persimmon tannin usually dyes cloth brown; however it can be as dark as black depending on mordant, which can be a good contrast.  Shape of this bag is square, and it has bottom plate.  The bag uses magnet closure at the top and has inner pockets at both side.  In order to see inside with an ease, yellow is selected for inner lining.
[What is plant dyeing?]
Plant dyeing an unique dying technique nurtured by Japanese unique nature and culture over more than a thousand years.  As this technique uses natural colours which can be extracted by natural material, even the same types of plant could create different colour depending on season, which means one cannot be exactly the same with others.
As this technique requires time and effort, this was initially developed to dye clothes of medieval aristocrats.  Also, plant dyeing has a low strength against sunlight, sweat and washing etc.; therefore, it was not suitable for modern mass production technology.  However, plant dyeing has been well loved by those who love unique and natural texture which can only be created by nature. Recently, plant dyeing has been receiving people's attention for its eco-friendly dyeing method.  Dyes and mordant used for plant dyeing are both material exist in nature.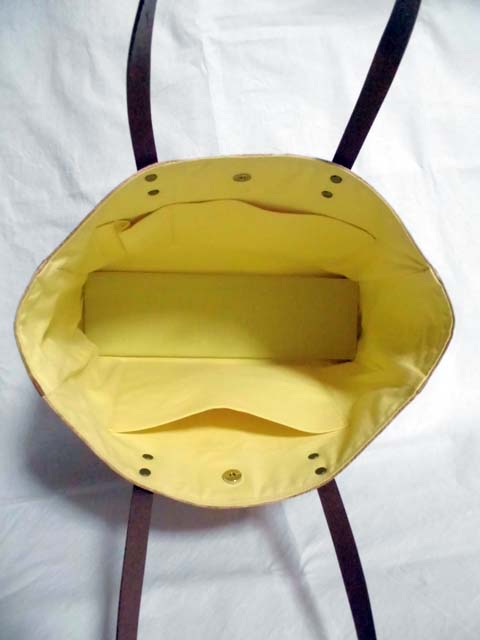 MATERIAL:
Outer material: Silk
– Dyes: Persimmon tannin (Ground green persimmon to ferment the liquid for 2 years. Only clear upper portion can be used.)
– Dyeing method: After thread dyeing for pattern creation, immerse in persimmon tannin, and then tie pattern and mordant for further dyeing. This method can be repeated for approx. 10 times so that each pattern can be unique.
– Pattern: Winding tie die using thread
Back lining material: cotton
– Dyes: Pagoda tree (buds of pea family used.)
– Dyeing method: aluminium mordant
– Pattern: plain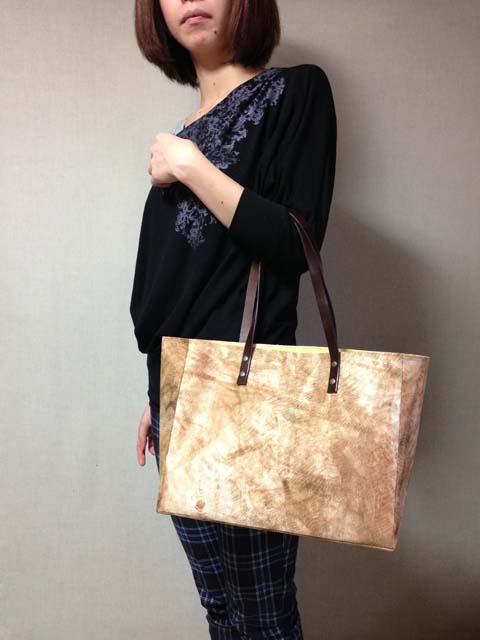 This bag is available from our ebay store.  Please check price and details from the link.  I hope you will enjoy having this products!

If the eBay link is dead and you have questions about the item, please contact me HERE.
This is JAPAN Style!