If you're a uncle, auntie, father, mother, grandpa or grandma and do have younger people in your family, there is something you have to prepare for Japanese new year, which is otoshidama or new year's gift money!  So, for today's topic, I chosen an article about 'petit envelop' for such otoshidama.
Even if you don't have your own children, you are expected to give this otoshidama gift for your nephew, niece, younger cousins, and sometimes to you grandparents. Having said that, current economic situation doesn't sound very promising, so sadly, you can't just be so generous as much as you want.
For those grown-ups who are in a difficult situation, this 'petit envelop with costume' will help you to great extent!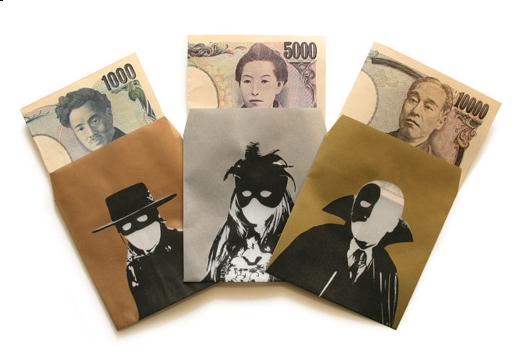 Normally, amount of money put in a petit envelop is a little secret, and you can only find it when you open it.  But for this envelop, you can see the faces on your banknotes throw the white parts you see on the image above.  So, your Hideyo Noguchi on 1,000 yen notes and Yukichi Fukuzawa on 10,000 yen notes can be seen as if they were in fancy dress!
According to the article, 3 types of petit envelop are available in this series; 'hideyo' for 1,000 yen, 'ichiyo' for 5,000 yen and 'yukichi' for 10,000 yen.  Even if you couldn't afford generous amount of otoshidama this year, you could give an image of funny person, and more importantly, you may be able to camouflage the fact that you are not paying enough!
Well, at the end of the day, children are more interested in how funny person you are~.  If it really works, I may run into a shop to get one myself… Lol
I hope you enjoyed today's topic about petit envelop.
Is there anything you can never ever miss on the New Year's Day in your country?  Please let us know!
Source: web R25
This is JAPAN Style!