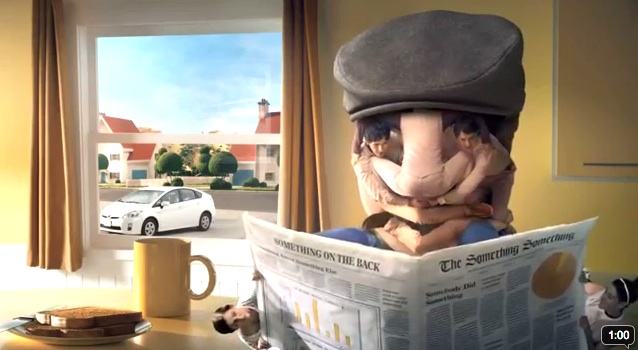 Look at this image attached above. At a glance, the man looks normal. However, he is actually a clever arrangement of eighteen people (*_*)! Every single person is making up the giant man's body parts. This is one scene from a TV commercial for TOYOTA's popular hybrid car, the"Prius".
Now let's see the whole video!
This film was shot by a Japanese director named Mr. Hide (Hideaki Hosono). He used mostly props and sets of an exagerrated scale, and almost no computer generated images.
Here is the making video, too. Let's check it out 🙂
I guess the huge man in the TOYOTA TV ad reminded many readers of  pieces by famous Italian painter Giuseppe Arcimboldo, who drew many portraits constructed with various fruits, vegetable, flowers, and so on. In Japan there are also some traditional paintings which are very similar to the TOYOTA ad.
These two pieces were painted by Utagawa Kuniyoshi, one of Japan's "ukiyo-e" masters. See? Very similar to the TOYOTA man, aren't they? (Especially the nose part in the left picture!) I'm not sure if the director, Mr. Hide, was inspired by Utagawa Kuniyoshi. But I'm definately sure that both are engaging works of art! 😛
Source: Wikipedia
This is JAPAN Style!