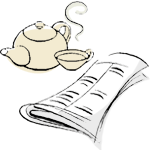 — ABOUT  Wasabi Stories… —
"Committed With Work With a Barrier Against The Outside World"
Today's story-teller is writer [W:Baku Yumemakura].
The story is about a person who inspired him to become a writer.
The story begins with the time when he was in high school. He used to join in a few science fiction group activities and submitting his works to coterie magazines.
He was also belonged to a group of pure literature that adults were joining in. He says that it was a valuable experience that he got to meet people who were creating pure literature and he was exposed to their serious discussion such as them saying, "Nobody can write a novel without having a tough life."
He was still submitting his works to coterie magazines while he was working part time after graduating from university. Seeing people of the same age making debuts, he used to be thinking that he could have made a debut if he had been serious.
He thought about getting serious, but he never got serious about writing.
But when he was about 25 years old, he decided to change the situation. He sold his favorite camera to get extra money for expenses. He closed the shutters of his room and shut himself in the room for 3 months to write.
He sent his completed the manuscript to a coterie magazine publisher which was said to be the gateway to success for science fiction writers.
Shibano, from Uchujin magazine, who received his manuscript called him. Shibano said to him, "Why don't you put this work in a professional magazine, not in Uchujin?"
So Shibano introduced a science fiction professional magazine called Kisotengai to him. It lead him to start his career as a professional science fiction writer.
Yumemakura tells the back story. A lot of aspiring young writers were approaching him to ask for advice. He used to tell them not to quit the work they were doing. However, he told Yumemakura that he was different from the others.
Shibano said, "We do not know if your work becomes a big seller. However, you are with us and you are supposed to write. I do not stop you if you want to quit, but you have to be prepared to be prepared for anything."
Yumemakura says, "I had decided to prepare myself for the worst. I think eventually Shibata's words pushed me into this world. 'I cannot become anything but a writer.' That was the moment that I got prepared to become a writer."
The NIKKEI 02/05/2010 Baku Yumemakura (writer)

You should follow me on Twitter.