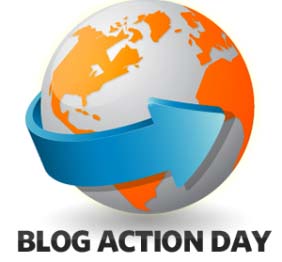 11 March, 2011. It occurred to us all of the sudden. The Great East Japan Earthquake left scars not only on Japanese, but people all over the world. This earthquake made the name of FUKUSHIMA known throughout the world. People lost houses, and are still forced to live in shelters without clear solutions against the effects of invisible radiation. For those innocent people, I can only wish that everything goes back on track as soon as possible.
But is there anything I can do for the people? We are standing at a crossroad. Discussion on the future of nuclear power station has been done, but there seems to be no end or whatsoever due to conflict of interests. Nuclear power plant proponents argue that the off-lined power plant leave us to rely on thermal power plant. This increases sourcing cost of fossil fuel, and means possible national spending of approx. 3 trillion yen. Let's see our composition ratio of electric source as of 2010 before the earthquake here. 29% was generated by nuclear power generation and 62% was from thermal power (coal + oil +LNG). On the other hand, rate of nuclear power as of December 2012 after the earthquake changed to 7%, and 86% for thermal power generation.[1]  You can see that thermal power generation is covering the power generation insufficiency due to off-lined nuclear power stations. Discussion on future balance between each type of energy generation pays extra attention to future reliance on nuclear power generation, but it doesn't seem to be so simple.
But is this right direction? I sometimes cannot deny the fact that I feel something wrong with such discussion. I believe this is because the discussion is done from the viewpoint of power supplier side, and it focuses on how to increase energy supply capability. When there is insufficiency in electric power supply, conservation of 1kW electricity means 1kW of additional electricity supply. So, we should be able to think of how to reduce electric consumption instead.
But what can we actually do? We can certainly save electricity. Some may say saving electricity doesn't do anything. But what I'm going to introduce below are not just examples of electricity conservation by individuals. 'Electricity conservation' seems to bring negative images as it almost denies our comfortable modern life with air conditioner and lightening. However, I would like to introduce rather more self-motivated way of electricity conservation.
Have you heard of condominium apartments with solar panel? In Japan, solar panels were mainly introduced to detached houses, but recently, application to condominium apartment has been encouraged.[2]  Some people question the relation between solar power generation and electricity conservation. But here is the overview of the system; you can see how these two are closely related.
If you set solar panel on the roof of your house, you can generate electricity when it's sunny during daytime. Generated electricity will be spent in the house, and excess power will be sold to power companies. In 2012, excess power can be sold for 42 yen (US$0.5) per 1kW, so if you reduce electric consumption, you could earn money by selling such excess electricity. Owners of solar panels could earn money depending on the amount of electricity conservation, and can also contribute to stop global warming. In addition, as the apartment is complex housing, excess electricity generated within the complex can be distributed to a room with insufficient electricity. So, as a resident of the complex, you can jointly work with your neighbours to improve self-sufficient rate of electricity as well as contributing to global warming countermeasures.
I introduced one example of electric conservation, which is jointly done by residents of a condominium apartment with solar panels. But of course, there is variety of other electric conservation method. Followings are examples of a large scale electric conservation by a bunch of people.
Have you ever heard of Candle Night? [3]  In order to think of the Earth and realise how people are heavily rely on electricity, participants use candles during this event, turning off lights. People turn off lighting for 2 hours between 8pm and 10pm, and think of environmental issues including global warming and energy issues by watching the light of candles. This event was held on 16 June this year.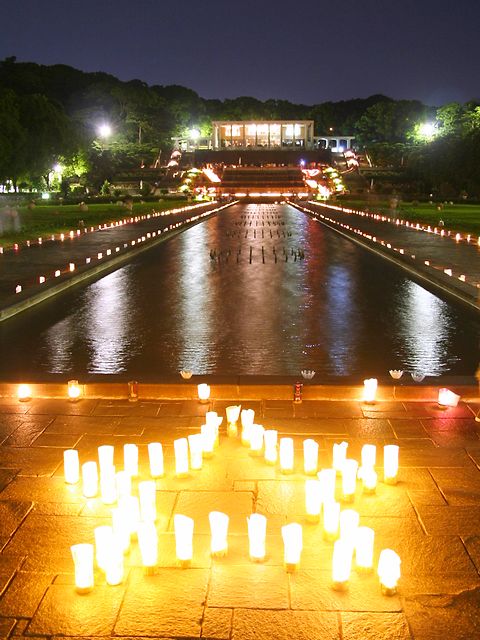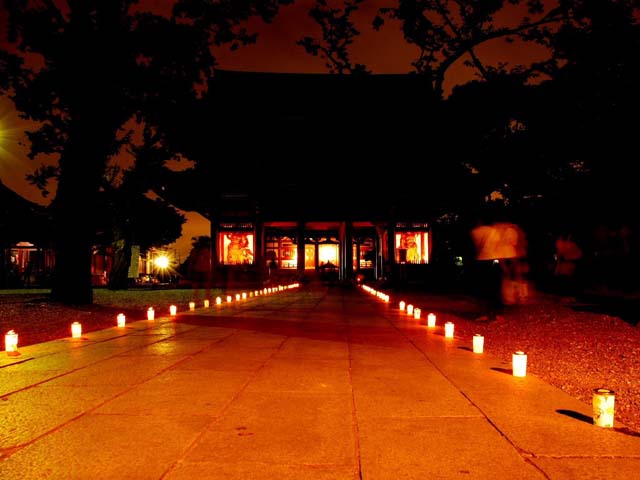 Also, there is a similar event, called Right down Japan.[4]  This was held on 21 June (the summer solstice) and 7 July (the Star Festival). Approx. 33800 facilities joined this event, and 1730 thousand kWh worth of electricity was saved on 2 days. CO2 emission was reduced by 717t, which is equivalent to CO2 emission of 55k houses on a day.[5]  As you can see, if electricity conservation is done by a large number of people at once, the achievement can be huge like this.
Energy issue is not only for Japan, but a universal issue. And when people start considering how to spend precious energy resource, changes can be seen in people's attitude toward the use of electric power consumption. Electric power is limited source, and cannot be supplied forever. Little electricity conservation of each person can be a great help to solve energy issues. This is why 'The Power of We' is needed.
[Footnote]
[1] Resources and Energy Agency, 13th General issues committee Distributed material #7 'Thermal power generation' page 5, page 6
[2] Purchases information for new, solar powered condominium apartment Search results
[3] Candle night with 1,000,000 people  'Light down at SKY TREE on the night of the summer solstice for electric power conservation' Asahi Shimbun, 22 June, 2012
[5] Results of 'Light down Japan 2012'
[Reference]
Light down at Tsutenkaku Tower of Osaka on the night of the summer solstice
Tokyo Walker: What is evolving candle night event in downtown like? 18 June, 2010
This is JAPAN Style!