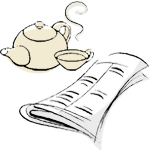 — ABOUT  Wasabi Stories… —
"Being skilled doesn't mean You can be Self-Centered"
Today's story teller is a Japanese foil fencer, [W:Yuki Ota], who won the silver medal in the men's individual foil in the 2008 Summer Olympics in Beijing.
"Although fencing is an individual event, as a sportsman it's important to consider others. That's my senior fencer at my high school, Iimura taught me." Ota started his story.
Ota's father is also a fencer, and when he was third grade, he was taken to fencing class by his father, where he met a high school fencer, Iimura.
Ota's skill got improved after he went on to junior high school. One day, he had a chance to join practice match at a high school.
During other fencers' matches, Ota was chatting with a teacher from another school without cheering his mates.
Seeing that, Iimura scolded Ota with an angry look.
"Being a strong athlete doesn't mean you can do whatever you want to do!"
At that time, since Ota achieved good results in matches, so he thought that he could put himself before anything; however, because he was one of the team members, acting for his own wasn't allowed.
By Iimura's word, he realized that.
"I practice hard to repay Iimura for teaching me the way that I should be as a human and telling me to not forget that."
The NIKKEI Jul/31/2009 by Yuki Ota (foil fencer)
You should follow me on Twitter HERE.